DIABLO BLVD – abgesagt plus guests: Sloppy Joe's
21.10.2017
DIABLO BLVD – abgesagt plus guests: Sloppy Joe's
Das Konzert wurde leider abgesagt. Einen Ersatztermin gibt es leider nicht. Im Vorverkauf gekaufte Karten können an den entsprechenden Stellen zurückgegeben werden.
————————————————
May 9th, 2017 – Belgian dark groove rockers DIABLO BLVD proudly announce their first European headliner tour in support of the highly awaited new album, »ZERO HOUR«, which is scheduled for September 22th, 2017. The official release show of the new album »ZERO HOUR« is going to take place in Antwerpen, Belgium on September 23rd. The band will also play their first UK shows ever. Before embarking on tour DIABLO BLVD will support LIFE OF AGONY in August for 4 shows.
»ZERO HOUR« is a dark eleven-track-groove monster with haunting melodies, huge guitar riffs, driving bass and pounding drums. Taking their inspiration from both classic metal acts like Type O Negative, Metallica and Black Sabbath and eighties new wave bands like Killing Joke, Sisters of Mercy and Gang of Four, Diablo Blvd craft a unique sound ideally suited for these dark times. The perfect soundtrack to the end times. To give you a foretaste, watch this short video including a snippet of the new song 'Animal':

DIABLO BLVD main man Alex Agnew had to say on the announcement: "The last 2 years we have refocused and regrouped in order to write the best record we could. It's the longest we've ever been in the studio and not being on stage drives me insane so you don't wanna know how I feel right now. In other words It's about time we get that thing back on the road!"
SLOPPY JOE'S – TRUE ROCKAHOLICS
Discover the rockin' soul and asskickin' sound of an extraordinary band that deserves the name of rock'n'roll. Inspired by true legends such as KISS, Volbeat, Maiden or AC/DC the three rockaholics unleash their own unique style of musical impact. Jesse Garon, Johnny Angel and Pätzy Dävey are providing blistering guitarriffs, cutting ass bass and heavy drums. That's how the band imposingly shows what rock'n'roll is about. It's out there, right here, just in front of you – so take the powerful rock-infusion of Sloppy Joe's!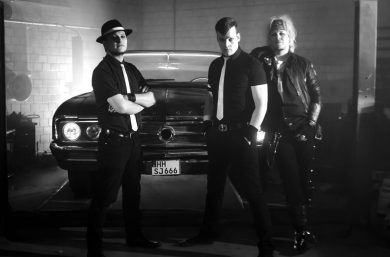 DIABLO BLVD – abgesagt plus guests: Sloppy Joe's
MarX